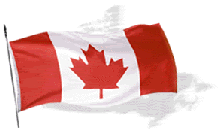 145 Years Young
Strong, Proud and Free
Oh Canada!
[This is my second of two entries being submitted to the Hidden Valley Ranch™ Recipe Challenge. I hope you enjoy the flavours! ]
Well, yesterday I found myself in the undesirable position of recreating a recipe to submit to the Hidden Valley Ranch™ Recipe Challenge. I had tweaked and had friends over for a tasting feast of a recipe for the contest when disaster struck. I don't know what went wrong other than the coating wouldn't stick, my deep fryer is a mess and I had do a quick substitution. A recipe is of little use other than a starting point if it cannot be duplicated especially for contest purposes. So I went to plan B to recreate the third runner up in my set of tested Ranch® recipes.
Many kids don't like vegetables because their parents don't like vegetables. The thing is aside of a few stronger vegetables like cabbage or brussels sprouts, most kids will eat any vegetable especially if it involves some type of dip. Our grandkids are particularly fond of Ranch® dressing as a dip. Now Hidden Valley® has come up with a few new flavours so I just had to combine their new Spicy flavour for this family favourite. I have to tell you the new Spicy Ranch® is delectable, not too spicy for kids yet just that extra zest for mature palates. These yummy grilled zucchini boats are a sure hit!
Grilled Zucchini Boats
recipe by: Garden Gnome
1 small zucchini
⅓ c Hidden Valley® Ranch original dressing
2 tbsp ( 30 ml) chopped sweet peppers (red, yellow)
2 tbsp (30 ml) chopped mushrooms
1 tbsp chopped eggplant
2 tbsp chopped broccoli
1 tbsp (15 ml) chopped onions
1 tbsp butter
1 tsp (5 ml) sliced green onions
1 tsp (5 ml) chive pieces
3 tbsp Hidden Valley® Ranch® spicy dressing
3 tbsp (45 ml) shredded cheddar cheese
Wash then cut the zucchini in half from stem end to blossom end. Cut a channel removing the seeds. Cover with the Ranch® original dressing. Let marinate for 1 hour. Heat the grill and place the zucchini channel side down. Prepare the sweet peppers, mushrooms, eggplant, broccoli and onions. Heat the butter in a fry pan then toss in the vegetables and let cook until just tender. Remove from heat and drain. Turn the zucchini over when there are nice hash marks. Divide the vegetable mixture evenly. Continue grilling until zucchini is tender. Top with cheddar cheese. Continue grilling until the cheese is melted. Remove from grill and top with green onions and chives. Drizzle with Hidden Valley® Ranch® spicy dressing or serve it in a dipping bowl to accompany the zucchini boats.
Serving size: 1 zucchini boat